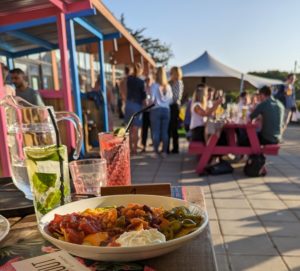 A brand new outdoor live music and dining experience at Bournemouth's Littledown Centre is getting shining reviews since opening earlier this year.
Lookout at Littledown opened in May 2023. A recently refurbished bar plus a transformed outdoor terrace with rustic seating, brightly coloured beach hut booths, and luscious planting nestles underneath a pagoda-style canopy.
The theme is zesty bright and funky with a chilled social vibe. Lookout at Littledown enjoys views across acres of the parkland where Littledown Centre sits. Open daily for food and drink from 11am-7pm (Sat and Sun) 11am-10.30pm on weekdays, Lookout has already proven popular with local residents, businesses, and leisure centre customers.
Open to members and nonmembers, hundreds of people have already enjoyed alfresco and indoor dining, popular live music nights, and dishes from Lookout's delicious menu.
Friday nights kick off the weekend in style with live music celebrating local musicians including the Mother Ukkers, Gemma Leanne, Gav Mun and P.R. Dewhurst.
Food includes delicious burgers, wings, bar food, side and sharers. There is a fully licensed bar serving a premium selection of drinks such as soft drinks, wines, quality beers, spirits, and specialty gins. Lookout also runs Happy Hour promotions on weekdays between 5-7, alongside drinks and meal deals throughout the week. Furthermore, the space is available for private hire for parties and celebrations.
"We've had a phenomenal response since opening Lookout at Littledown," says Matt Beavan Littledown's General Manager.
He continues,
"The vibe has totally transformed the space into a bright, welcoming space for people to come together to socialise while enjoying delicious food and refreshments. People getting together and having a great time is what we are all about – and it's great to see that it's hit the spot with our customers."
Lookout at Littledown is open to over 18+s on weekdays. At the weekends under 18s are welcome when accompanying a responsible adult.
Read more at https://www.facebook.com/lookoutatlittledown