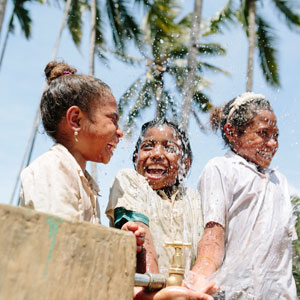 BH Live has pledged to continue backing clean water projects around the globe by serving Belu water in its venues, leisure centres, cafes and bars for the next three years.
Belu, which has partnered with the charity WaterAid since 2011, gives 100% of its net profit to help make clean water and facilities across 28 countries.
To date, Belu has given WaterAid more than £4 million, enough to transform over 270,000 lives worldwide with clean water.
BH Live runs 30+ cafés and bars in venues such as Fairfield Halls in Croydon, Mountbatten Leisure Centre in Portsmouth and Bournemouth Pavilion Theatre.
It also runs large scale banqueting events and pop-up catering stalls at outdoor events and festivals.
"By serving Belu water over the past three years, our customers have already helped WaterAid to transform the equivalent of 396 lives worldwide with clean water.
says David Christie, BH Live's Head of Hospitality.
"We hope that over the next three years the impact to WaterAid projects will be just as great."
Belu is sourced in Powys, Wales. Its plastic bottles are made 100% from recycled plastic bottles and it is the first & only UK water brand to achieve BSI PAS 2060 carbon neutrality standard. The glass is made with at least 35% recycled glass and mineral water packaging is 100% recyclable.
David Christie adds:
"Belu has some of the most sustainable credentials on the market and it is a product we are pleased to support".
-ENDS-
Notes to Editors:
Homepage Photo-caption:
WaterAid image kids at tap Timor Leste. Credit WaterAid Tom Greenwood
For more information about BH Live please contact:
Elizabeth Symmons, PR & Corporate Communications Executive
E: press.office@bhlive.org.uk
T: (01202) 055562
About BH Live
BH Live is a leading operator of leisure and event venues; a social enterprise that designs and builds engaging experiences to inspire people and enrich lives.
For more visit bhlive.org.uk.
Get social with us: LinkedIn, Twitter @BHLIVE_UK and Facebook @SocialEnterpriseBHLive
About BH Live Hospitality
BH Live's catering division, provides event and retail services at leisure and cultural venues across Dorset, Hampshire and London.
Terrace cafés, bars and vending services operate at venues including Bournemouth Pavilion, Bournemouth International Centre, Littledown, Pelhams, BH Live Active, Queen's Park and Corfe Mullen, Mountbatten Leisure Centre, Portsmouth Pyramids and Fairfield Halls (Croydon).
In partnership with GLL, Terrace cafés and hospitality services for events are also delivered by BH Live at London Aquatics Centre (LAC), Copper Box Arena in Queen Elizabeth Olympic Park and Streatham Ice and Leisure Centre.
For more visit bhlive.org.uk/hospitality.