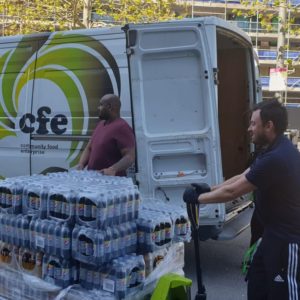 BH Live has donated over 90 cases of soft drinks and 400 bags of snacks from Copper Box Arena and London Aquatics Centre in London's Queen Elizabeth Olympic Park to a local food hub charity: Community Food Enterprise (CFE) Ltd in Newham.
The venues, normally busy with customers heading to their gym workouts, or spectators attending world class sporting events, have been closed since 20 March 2020.
BH Live – the social enterprise that runs the café at London Aquatics Centre, and provides event catering at both venues, has been working with CFE and Better (the customer brand of leading leisure social enterprise GLL) to donate its surplus stock for the benefit of the local community.
David Christie, BH Live's Head of Hospitality said:
"We are pleased to support our local distribution hub by donating surplus items which will hopefully be used to create packed meals and food on the go for people in our community. And we are so grateful to our volunteers too who have come together to help make this happen."
Russ Barnes, Better Partnership Manager for Copper Box Arena and London Aquatics Centre said:
"At Better, we've always supported local communities through our community sports programmes, so we were delighted to be able to respond, together with fellow social enterprise BH Live, to this request for help from CFE's Food Distribution Hub.
"Everyone is enjoying pulling together and hopefully this donation will put a smile on the faces of some local people too."
Eric Samuel of Community Food Enterprise Ltd said:
"We are very grateful to social enterprises BH Live and Better for their donation to CFE's Food Distribution Hub.  Every contribution allows us to provide some extra support for families in need in Newham."
-ENDS-
Notes to Editors:
Home page photo-caption:
Volunteers from BH Live and Better helping to transport food, drink and snacks from Stratford's Copper Box Arena and London Aquatics Centre to Community Food Enterprise Limited in Newham.
About Community Food Enterprise (CFE) Ltd
CFE distributes surplus food to over 90 community organisations and registered charities in East London and during COVID-19 outbreak, to seven community food hubs in Newham. Further information and pictures can be found at: www.c-f-e.org.uk
For more information about BH Live please contact:
Elizabeth Symmons, PR & Corporate Communications Executive
E: press.office@bhlive.org.uk
For more information about Better/GLL please contact:
Charles Dean – Corporate Communications Manager – GLL
Strategy & Development Department
Mob. 07813 458 258
E: charles.dean@gll.org
About BH Live
BH Live is a leading operator of leisure and event venues; a social enterprise that designs and builds engaging experiences to inspire people and enrich lives.
For more visit bhlive.org.uk.
Get social with us: LinkedIn, Twitter @BHLIVE_UK and Facebook @SocialEnterpriseBHLive
About BH Live Hospitality
BH Live's catering division, provides event and retail services at leisure and cultural venues across Dorset, Hampshire and London.
Terrace cafés, bars and vending services operate at venues including Bournemouth Pavilion, Bournemouth International Centre, Littledown, Pelhams, BH Live Active, Queen's Park and Corfe Mullen, Mountbatten Leisure Centre, Portsmouth Pyramids and Fairfield Halls (Croydon).
In partnership with GLL, Terrace cafés and hospitality services for events are also delivered by BH Live at London Aquatics Centre (LAC), Copper Box Arena in Queen Elizabeth Olympic Park and Streatham Ice and Leisure Centre.
For more visit bhlive.org.uk/hospitality.
About GLL/Better
Established in 1993, GLL is the largest UK-based charitable social enterprise delivering leisure, health and community services. Operating under the Better brand, we manage over 270 public sport and leisure centres, 113 libraries and 10 childrens centres in partnership with 50 local councils, public agencies and sporting organisations.  GLL has 850,000 members and welcomes 54 million customer visits per year.
Alongside our core leisure and library divisions, we also operate in sport and legacy development, health intervention and education – as well as running the GLL Community Foundation focussed on supporting local projects and the GLL Sport Foundation; the largest independent athlete support programme in the UK, focussed on helping today's and tomorrow's athletes.  ENDS