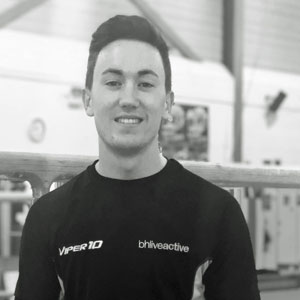 As part of our celebration of National Apprenticeship Week earlier this year we caught up with Sam who works at Portsmouth Gymnastics Centre.
Q/ What is your current role and what does it entail?
A/ I am a Developmental Coach at Portsmouth Gymnastics Centre. I work with boys aged 6-8 years old who are showing potential in gymnastics. I work with these gymnasts, alongside the Head Coach, to prepare them for elite level competitions. I teach various apparatus and disciplines including floor, pommel horse, rings, vault, parallel bar and high bars.
Q/ What attracted you to taking up an apprenticeship?
A/ I was already a high level gymnast so have lots of enthusiasm and experience for the sport. I knew I wanted to work in this area.
Q/When you entered the apprenticeship, were you a school leaver, or had you completed any other education/course before taking up the apprenticeship?
A/ I had just finish my A-levels in Geography and PE and was looking at what to do next. I wasn't sure if I wanted to go to university or get some hands on work experience instead.
Q/ How long did your apprenticeship take?
A/ I completed a level two in leadership which took a year. I was then offered the role and full time employment.
Q/ Was your plan always to try and secure a permanent job at the company?
A/ Yes – it was part of the plan to try and secure a permanent role after completing the apprenticeship. I wanted to prove to myself and the rest of the team first though that I could coach and had what it takes to be a valuable colleague and asset to the organisation.
Q/ Was the apprenticeship what you expected? Any surprises on the way?
A/ The scheme was exactly as I expected – and by working with the team 'on the other side' the people skills I gained were really useful. I think this helped me to really develop as a person too and gave me a superb insight into the working environment – and what I needed to do to in myself to make it work.
Q/ What was, for you, the most positive aspect of being an apprentice?
A/ The most positive aspect of being an apprentice was gaining confidence in the work place and understanding how a company works. I learnt more about general work environment including areas such as admin and customer service. I could see how my role fitted into the organisation which helped me to understand the bigger picture.
Q/ And the most negative?
A/ Because I live a distance away from the Portsmouth Gymnastics Centre the travel was the only negative.
Q/ If you were given the job of promoting apprenticeships, and getting young people to consider them, what would your message be?
A/ Do it! Gaining a qualification and earning money while learning about the workplace give you such an advantage over your peers. You are not just learning academic skills – you are also learning practical and interpersonal skills that future employers will be looking for.
Q/ Do you think there should be more of an emphasis on apprenticeships, when it comes to getting people trained up and into the workforce? Or is the balance right at the moment?
A/ Definitely – I feel that there is a lot of emphasis for younger people to go onto higher education. The cost of this though can be really off putting which leaves some people not knowing what to do next. The benefits of apprenticeship schemes are so much more than just academic learning. Going through the scheme has really been helpful to me personally and I would like to see more people promoting apprenticeship schemes to young people.
To find out more about becoming an apprentice at BH Live, contact our recruitment team.