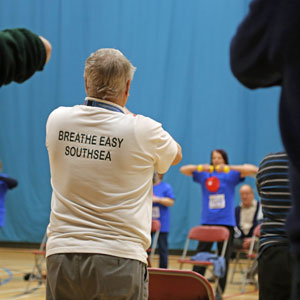 Exercise classes, which help people across the city living with COPD (Chronic Obstructive Pulmonary Disease), have been shortlisted for a UK Active healthy communities 2022 award.
BH Live is a charitable trust which operates the Mountbatten, Pyramids and Charter leisure centres in partnership with Portsmouth City Council. Working alongside organisations such as Breathe Easy Southsea, Working Age Parkinson's, Energise Me and NHS partners, BH Live runs a Health and Wellbeing programme for more than 200 people each week, consisting of classes specifically for people with living with health conditions.
The scheme which has been recognised for an award is helping local people to manage the often debilitating physical and mental symptoms associated with COPD – a term that is used to describe a range of chronic respiratory conditions that cause breathing difficulties. It was supported by Energise Me's Investing in Communities project, with National Lottery funding from Sport England's Tackling Inequalities Fund.
Regular movement and physical activity in a social setting can improve the quality of life and slow the progression of COPD. Breathe Easy Southsea has funded specialist staff training for BH Live so sessions can be delivered in leisure centres, community settings and online. Solent NHS pulmonary rehabilitation team refer people into the service and BH Live delivers four COPD exercise classes each week.
Rob Cunningham BH Live's head of leisure explains more about why the scheme was put forward for a healthy communities award.
"During the lockdowns, it was especially difficult for people with COPD to get the guidance, support and exercise they needed to help manage their condition. Working with health and community partners and thanks to support and investment from Energise Me and Sport England, we were able to launch online classes. This enabled us to help maintain people's physical fitness and prevent further decline in health and wellbeing for some of the city's most clinically vulnerable."

"The continuity of service also provided people with the opportunity socialise while their usual and more familiar support networks were broken – helping to combat the loneliness and isolation people were experiencing."
Cllr Steve Pitt, Cabinet Member for Culture, Leisure and Economic Development said:
"I am delighted that BH Live has been shortlisted for a UK Active healthy communities award. We want more residents to take up the opportunity to play sport and get active so we have a healthier city.

"Specialist classes like this open up sport and activity to those who can really benefit from it, and I hope we see more opportunities like this in Portsmouth."
The UK Active awards highlight some incredible examples of how the sector has rebuilt over the past year, since reopening from lockdown during the pandemic. They are held in partnership with Active IQ, and this year's shortlist includes fitness and leisure operators of all sizes; local councils; prominent suppliers; leading universities; sports bodies; and charities.
Huw Edwards, CEO of ukactive, said:
"We are delighted but not surprised by the number of incredible entries and stories we have received for this year's ukactive Awards, which is testament to the unquestionable resilience and innovation within our sector.

"We are extremely proud of all of our members, who have worked so hard in rebuilding the sector and our nation's health, as we mark just over a year since facilities were allowed to reopen.

"Congratulations to all the finalists."
The awards will be held at the International Convention Centre in Birmingham, on 30 June 2022.
-ENDS-
Notes to Editors:
About Energise Me
Energise Me is a Hampshire and Isle of Wight charity, which tackles the things that prevent active lifestyles so everyone can improve their health and happiness by moving more.
For more information on Investing in Communities see:
https://www.energiseme.org/funding-support/support-for-the-sector-during-covid-19/investing-in-communities/
For more information about Energise Me, please contact: Penny Woods – penny.woods@energiseme.org.
About BH Live
BH Live is a leading operator of leisure and event venues; a social enterprise that designs and builds engaging experiences to inspire people and enrich lives.
For more visit bhlive.org.uk.
Get social with us: LinkedIn, Twitter @BHLIVE_UK and Facebook @SocialEnterpriseBHLive
For more information about BH Live please contact:
Elizabeth Symmons, PR, Communications and Marketing Manager
E: press.office@bhlive.org.uk
T: (01202) 055562
In Portsmouth, BH Live operates the following venues in partnership with Portsmouth City Council:
Mountbatten Leisure Centre – Portsmouth's flagship leisure and event venue with swimming pools, a 150 station gym, eight-court sports hall, squash, spin and dance studios, a cycle velodrome, athletics track, function suites with bars, a café and soft play facility.
It is also home to a Clip 'N Climb leisure attraction which opened in 2018.
For more visit bhliveactive.org.uk.
Get social with us: Twitter and Facebook @mountbattenlc
Pyramids Centre – one of Portsmouth's leading leisure venues overlooking Southsea beach and the Solent. It has state-of-the-art Technogym fitness equipment in a spacious gym with functional fitness, strength and cardio zones. There is a dedicated area for health assessments and people who are new to exercise, plus fitness tracking technology to help support people in reaching their activity goals.
Four activity studios provide a variety of daily exercise classes including Group Cycling, HIIT (High Intensity Interval Training), Yoga, Pilates and the Les Mills programme.
The centre is also home to Exploria, a themed play and bounce attraction which opened in 2021. A range of exciting experiences stimulate play and challenge children agreed from 6 months upwards. A bounce zone includes a diving tower with air bag, interactive games, themed slides agility parkour, battle beams and foam pits. The play zone includes ball pits, spider's web and cargo climbing features, a rope bridge skywalk, bash bags, tunnels, rollers, beams and dodge ball shoot out. And the baby and toddler zone has all things Exploria, but downsized for little ones. There is also a range of interactive games, a dedicated sensory room, four themed Pparty rooms and a café serving snacks, light bites and drinks.
For more visit bhliveactive.org.uk and exploria.org.uk
Get social with us: Twitter @PyramidsCentre
Facebook @Pyramids.Centre
Portsmouth Gymnastics Centre – gymnastics hall with physiotherapy and meeting room.
Get social with us: Facebook @PortsmouthGymnasticsCentre
Portsmouth Tennis Centre – Situated in the north of Portsmouth consisting of four indoor courts and six floodlit outdoor courts. A comprehensive coaching programme caters for all ages and abilities. Sessions are available for tots, juniors, adults and also includes variations of the sport such as cardio tennis and touch tennis.
Get social with us: Twitter @PortsTennis and Facebook @PortsmouthTC
Wimbledon Park Sports Centre – sports hall with badminton and basketball courts
Get social with us: Facebook @WimbledonParkSportsCentre
Charter Community Sports Centre – 20m swimming pool, 20 station gym, sports hall and an outdoor multi-use games area.
Get social with us: Facebook @CharterCommunitySC