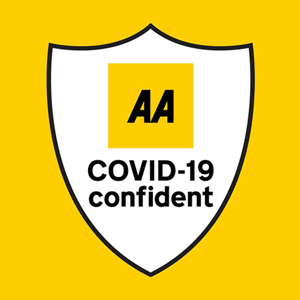 Customers can enjoy a drink, snack or meal with confidence at Bournemouth Pavilion's Terrace Bistro.
The Terrace Bistro, which overlooks Bournemouth's Lower Gardens has been awarded an AA Covid Confident mark, demonstrating that its operator, BH Live, has put the necessary risk assessments, safety measures and employee training in place to reopen safely and in line with the UK's respective Government guidelines.
"The AA accreditation is a trusted mark and a great way of reassuring our customers that we have put the necessary measures in place to make sure we are safe and ready to welcome them back through our doors," says BH Live's Head of Hospitality, David Christie.
The venue has also signed up to the AA's Covid Confident Charter, a code of conduct that includes BH Live's commitment to update procedures and measures as guidelines change.
The team at the Terrace Bistro has redesigned its indoor spaces to enable customers to maintain social distancing. For al fresco dining there is also a popular outdoor seating area with views towards the beach.
Freshly cooked Barrel & Stone pizzas are available for eat in or takeaway. And customers looking to dine in can enjoy handmade salads and sandwiches, burgers and mezze platters. Baristas are serving up freshly ground coffees as well as a range of hot and cold drinks. There is also a well-stocked gin bar offering more than 60 brands.
The Terrace Bistro is located to the rear of the Bournemouth Pavilion Theatre with lift access from Westover Road. There is also indoor customer toilet and handwashing facilities.
For more about the AA Covid Confident scheme visit ratedtrips.com/aa-covid-confident
-ENDS-
Notes to Editors:
For more information about BH Live please contact:
Elizabeth Symmons, PR & Corporate Communications Executive
E: press.office@bhlive.org.uk
About BH Live
BH Live is a leading operator of leisure and event venues; a social enterprise that designs and builds engaging experiences to inspire people and enrich lives.
For more visit bhlive.org.uk.
Get social with us: LinkedIn, Twitter @BHLIVE_UK and Facebook @SocialEnterpriseBHLive
About BH Live Hospitality
BH Live's catering division, provides event and retail services at leisure and cultural venues across Dorset, Hampshire and London.
Terrace cafés, bars and vending services operate at venues including Bournemouth Pavilion, Bournemouth International Centre, Littledown, Pelhams, BH Live Active, Queen's Park and Corfe Mullen, Mountbatten Leisure Centre, Portsmouth Pyramids and Fairfield Halls (Croydon).
For more visit bhlive.org.uk/hospitality