Earlier this year we celebrated National Apprenticeship Week and all the fantastic apprentices we have working at BH Live.
With opportunities across the organisation in departments such as HR, facilities management, tennis, recreation, customer service and coaching there is so much variety at BH Live. Later this year we are also launching our first catering apprenticeship programme in partnership with Bournemouth and Poole College.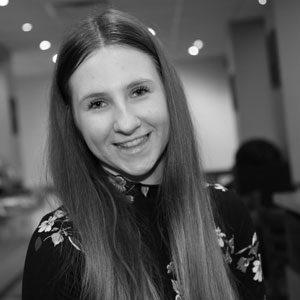 We caught up with Eleanor who works in our HR team to find out more about her apprenticeship programme and what her experience has been so far;
Q/ What is your current role and what does it entail?
A/ Business Administration Apprentice working in Human Resources
The job is so varied and includes all aspects of HR administration and support such as payroll, reports, coordinating our reward and recognition programme, maintaining employee and healthcare records. I have also worked with the team on specific projects such as gender pay gap analysis and our employee awards and events.
Q/ Which level of apprenticeship are you on currently (2-7)?
A/ I have just completed Level 2 and started in Level 3.
Q/Are you a school leaver, or did you complete any other education before taking up an apprenticeship?
A/ I started doing A-Levels at sixth form but it wasn't really for me. I felt like I wanted to be in a workplace environment to get more hands on experience and learning.
Q/How long will your apprenticeship be? And which level are you planning on reaching (2-7)
A/ I expect that my Level 3 will take between 12-18 months. When I have completed that I will see what's available for me to do next.
Q/What attracted you to taking up an apprenticeship?
A/ I wanted to mix with people of all ages and roles rather than being in a classroom with people my own age. I felt that the workplace had much more to offer me in terms of variety, experiences and environment. I also liked the idea that I would be earning while learning, which was a real bonus!
Q/Has being an apprentice been what you expected?
A/ Although I'd had work experience as a gymnastics coach and in a salon before, I didn't really know what to expect when I started on the apprenticeship programme. I didn't know much about HR and BH Live seemed like such a big organisation with so many people. It has been really brilliant though so far and I feel very lucky to have secured such a great placement.
Q/What has, for you, been the most positive aspect of being an apprentice?
A/ For me, there has been lots of positives so far. I have received a Legend Award for my work in HR and I have been able to meet lots of people across our venues and leisure centres. I have also had the opportunity to shadow other roles and positions including venue operations, event ticketing, technical services and our customer contact centre which has been really interesting and given me greater insight into other jobs.
Q/ And the most negative?
A/ Fitting everything in, and coursework, can sometimes be a challenge but I am lucky to have a supportive team.
Q/Are you hoping to secure a permanent job at your current company?
A/ Definitely –I would love to continue working with BH Live.
Q/ Would you recommend an apprenticeship to others?
A/ Absolutely – Academic study isn't for everyone and being in the workplace provides extremely valuable learning. There are so many people to learn from and being an apprentice gives great insight into lots of other careers and roles. I also know it's an incredibly competitive job market and believe that getting hands on experience and being able to demonstrate interpersonal skills, show competencies and give examples of work experience will stand me in really good stead for the future.
To find out more about becoming an apprentice at BH Live, contact our recruitment team.