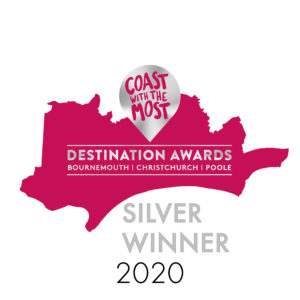 South coast conference bureau, Business Events Bournemouth, has been praised at the region's 2020 destination awards – scooping a silver award for its outstanding contribution to the events industry.
The bureau is the town's official destination marketing, event and accommodation management service. It represents more than 100 hotels, event venues, transport and activity providers, retailers and restaurants across Bournemouth, Poole and Christchurch. Its purpose is to attract meetings, incentives, and large-scale conferences and exhibitions (MICE) to the conurbation from across the UK and overseas. Clients include GMB, LGA, the Liberal Democrats and several association events.
Between April 2019 – March 2020, Business Events Bournemouth brought more than 100,000 event delegates to the region which resulted in over 86,000 bed nights for local hotels. This business contributed to an estimated £73 million to the local economy through business tourism. Its work also supports many local suppliers and has prompted several social responsibility projects such as environmental beach cleans and generating donations for community food banks.
Business Events Bournemouth's services are provided free of charge to event organisers in conjunction with BH Live, Bournemouth's Coastal and Town Centre Business Improvement Districts (BID), BH Area Hospitality Association (BAHA) and BCP Council.
David Bailey, Chair of the Destination Management Board said:
"We congratulate each and every single one of our winners and hope that this acknowledgement of the fine work they do contributes phenomenally to cementing our destination as a place of high-quality hospitality." 
Karina Gregory, Business Events Bournemouth bureau manager added:
"Business events make a vital contribution to our economy attracting thousands of people to the region. This provides the footfall that reinforces so many local businesses, jobs and services. Attracting clients and events can often take years of relationship building to earn trust and provide the reassurance that we can deliver. It involves so many stakeholders, all working together to get it right. I am delighted our contribution has been recognised and it's an honour to be working alongside so many other fantastic organisations."
Karina adds:
"This year however has been devastating and there is no doubt that the consequences of lockdown and the ongoing trading restrictions surrounding business events will be felt by many. I think this really highlights how important business events are to our economy and how critical it is to demonstrate that together we can deliver events safely – and get this important sector back up and running again as soon as possible."
Future plans for Business Events Bournemouth include continued working with clients to reschedule 2020 events and collaboration with Visit Britain to attract more international clients, and larger events, conferences and exhibitions, into the region from 2021 onwards.
-ENDS-