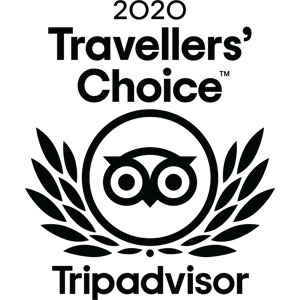 Two of Bournemouth's top event venues, Bournemouth Pavilion and Bournemouth International Centre have earnt a Tripadvisor 2020 Travellers' Choice award. This places the south coast's largest event venue, and its sister Grade II listed 1920s Art Deco theatre and ballroom, in the top 10% of hospitality businesses around the globe.
Based on a full year of Tripadvisor reviews, prior to any changes caused by the Covid-19 pandemic, award winners are known for consistently receiving great customer feedback.
Situated in the heart of Bournemouth on the Dorset coastline, both venues host a diverse programme of events throughout the year including conferences, exhibitions, concerts, musicals, opera, ballet, pantomime, comedy, gala dinners, banquets, receptions, exhibitions and fairs.
In March 2020 Bournemouth Pavilion celebrated its 91st anniversary – hundreds of local residents and visitors enjoyed a free community open day with behind the scenes tours and talks to mark the occasion. Inspiring the next generation of performers, local theatre schools and groups, including Swish of the Curtain and Bournemouth and Boscombe Light Opera Company, regularly perform on its stage. The venue is also home to Pavilion at AUB; a rehearsal and teaching space for Arts University Bournemouth, and Pavilion Dance South West – a centre of excellence for socially relevant dance. Furthermore, classical performances by leading performers, including the world-renowned Bournemouth Symphony Orchestra, are enjoyed.
Bournemouth International Centre is renowned for hosting high profile conferences, exhibitions and business events, alongside a glittering schedule of music concerts, performance and entertainment, attracting acts including Kylie Minogue, Stereophonics, Dolly Parton and Lee Evans.
In partnership with BCP Council, Bournemouth International Centre and Bournemouth Pavilion are run by BH Live – a social enterprise and non-profit distributing (NPDO) charitable trust. BH Live's purpose is to run venues for public benefit to promote community participation in leisure and cultural events.
On receiving the accolade, Steve Turner, BH Live's Divisional General Manager commented:
"These are really special awards because they are based entirely on customer reviews and experiences. We try to make sure our event programme has something for everyone and all of our customers have a really great time. We are so grateful for our customer's support which, more than ever, means so much to all who work in our venues and theatres."
He adds:
"The ongoing trading restrictions due to the pandemic have impacted the performance industry really hard and we are devastated that much of our event programme has had to be paused for now.

"We have however been working with our partners and promoters to get live events back up and running again and have just announced a series of socially distanced live performances at Bournemouth Pavilion including a That'll Be the Day Christmas show, and a family Christmas Spectacular with The Glad Rag Production Company and Scott Ritchie Productions. We can't wait to reopen our doors and welcome customers back!"

"Winners of the 2020 Travellers' Choice Awards should be proud of this distinguished recognition,"
said Kanika Soni, Chief Commercial Officer at Tripadvisor.
"Although it's been a challenging year for travel and hospitality, we want to celebrate our partners' achievements. Award winners are beloved for their exceptional service and quality. Not only are these winners well deserving, they are also a great source of inspiration for travellers as the world begins to venture out again."
To see what's on at both venues and buy tickets visit bhlivetickets.co.uk.
-ENDS-
Notes to Editors:
Photo-caption:
In August 2020 Bournemouth Pavilion and Bournemouth International Centre participated in the #WeMakeEvents Red Alert campaign Photo credit; Simon Bagnall
About Bournemouth Pavilion
Bournemouth Pavilion is operated by BH Live in partnership with BCP Council.
This Grade II listed venue opened in March 1929. It has a 1,500-seat theatre and full-sized ballroom. The venue hosts musicals, opera, ballet, pantomime, comedy, gala dinners, banquets, receptions, fairs, dances and fashion shows throughout the year.
Its facilities complement events at Bournemouth International Centre and for corporate presentations, product launches, and smaller conferences and exhibitions.
For more visit bournemouthpavilion.co.uk.
Get social with us: Twitter @BHLIVE_UK and @bhlivetickets
About Bournemouth International Centre
Bournemouth International Centre is operated by BH Live in partnership with BCP Council.
Set in the heart of Bournemouth, with panoramic views across the bay, it is the south coast's premier conference, exhibition, entertainment, and hospitality venue, with licensed capacity for up to 10,000 visitors. Four main halls and a variety of smaller meeting and hospitality areas can be scaled to host events such as multi-hall conferences, exhibitions, meetings, music concerts, dance and comedy performances.
For more visit bic.co.uk. Get social with us:
Twitter @BHLIVE_UK and @bhlivetickets
Facebook @BournemouthInternationalCentre
About BH Live
BH Live is a leading operator of leisure and event venues; a social enterprise that designs and builds engaging experiences to inspire people and enrich lives.
For more visit bhlive.org.uk.
Get social with us: LinkedIn, Twitter @BHLIVE_UK and Facebook @SocialEnterpriseBHLive
For more information about BH Live please contact:
Elizabeth Symmons, PR & Corporate Communications Executive
E: press.office@bhlive.org.uk
BH Live is a leisure and cultural trust, established in 2010 as a 'non-profit distributing organisation' (NPDO) for public benefit to promote participation in leisure and cultural events. BH Live is a Company Limited by Guarantee and Registered Charity. Charity No: 1138311. Company No: 07092112. VAT Reg No: 108 2248 37. BH Live (Enterprises) Ltd, is a Private Company Limited by Shares and a wholly owned subsidiary of BH Live. Company No: 07175626. VAT Reg No: 108 2248 37. Registered Office: Bournemouth International Centre, Exeter Road, Bournemouth, BH2 5BH. Registered in England and Wales
About Tripadvisor
Tripadvisor, the world's largest travel platform*, helps 463 million travelers each month** make every trip their best trip. Travelers across the globe use the Tripadvisor site and app to browse more than 860 million reviews and opinions of 8.7 million accommodations, restaurants, experiences, airlines and cruises. Whether planning or on a trip, travelers turn to Tripadvisor to compare low prices on hotels, flights and cruises, book popular tours and attractions, as well as reserve tables at great restaurants. Tripadvisor, the ultimate travel companion, is available in 49 markets and 28 languages.
The subsidiaries and affiliates of Tripadvisor, Inc. (NASDAQ:TRIP) own and operate a portfolio of websites and businesses, including the following travel media brands:
www.bokun.io, www.cruisecritic.com, www.flipkey.com, www.thefork.com (including www.lafourchette.com, www.eltenedor.com, and www.bookatable.co.uk), www.helloreco.com, www.holidaylettings.co.uk, www.housetrip.com, www.jetsetter.com, www.niumba.com, www.seatguru.com, www.singleplatform.com, www.vacationhomerentals.com and www.viator.com.
* Source: Jumpshot for Tripadvisor Sites, worldwide, November 2019
** Source: Tripadvisor internal log files, average monthly unique visitors, Q3 2019