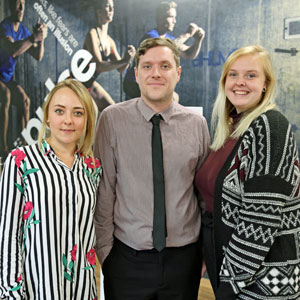 Charitable social enterprise BH Live has inducted its first graduates onto an inaugural two-year training programme.
The course is intended to take people with potential on a journey from grass roots service delivery to the supervision of leisure centres and activities, cultural venues, events and hospitality.
BH Live is a leading operator of leisure and event venues in the third sector. It manages high profile venues and leisure centres across Dorset, Hampshire and London including Bournemouth International Centre and Fairfield Halls in Croydon.

As a charitable social enterprise its surplus is used to support community health and wellbeing projects and provide cultural experiences for all.
Key areas in the graduate programme, which was announced earlier this year, include customer service, housekeeping, delivering recreational activities, event management and hospitality services. Corporate and support services such as human resources, sales, marketing and facilities management are also incorporated into the course alongside vocational and in house training to support continued professional development.
Mike Traher is one of the successful candidates that has recently started on the programme. Having graduated from Southampton Solent University in media, culture and production, he also achieved an MA in public relations and multimedia communication.
Mike explains what attracted him to BH Live and the programme. He says:
"I really love live music and the sense of community and atmosphere that comes along with it. Impressed by the great work BH Live does, and its impact on the local area, I'm really happy to be part of it. There is a lot of training involved and it gives me the opportunity to become experienced across a number of different areas. I hope to be able to develop and grow with the company, furthering my career aspirations in events and hospitality."
Monika Zolc attended Bournemouth University and completed four year business studies & finance degree. She says:
"The graduate programme at BH Live seemed to be a one of a kind opportunity to learn and develop myself personally and professionally. Furthermore, the ability to work within all sectors of the company was the main thing that attracted me to it. I think the challenge is what I am looking forward to the most.

"After two weeks within the role I already know that this job will bring me out of my comfort zone and take my professional and personal skills to another level. I hope to become a fully qualified manager to take on a bigger challenge and, if possible, continue my professional career with BH Live."
Calla Shailer-Williams also graduated from Bournemouth University. Having completed a four year tourism management degree. She added:
"What initially attracted me to BH Live was the opportunity to try so many roles which will allow me to find my niche whilst also helping the community too. The more I have learnt about the programme the more excited I get; for example I never would have thought of being a lifeguard before, now I'm already fully qualified and so happy I've done it! "
"As we approach our tenth anniversary it is a very fitting time to bring together the best of our organisation with our own graduate programme,
says Chris Symons, BH Live's Chief Executive who joined the Charity in April 2019.
Alongside our apprenticeship and employee development schemes, the new programme enables us to attract upcoming talent to take our business forward – and I am thrilled we have secured three outstanding recruits."
Read more at bhlive.org.uk
-ENDS-
Notes to Editors:
Photo-caption:
Mike Traher, Monika Zolc and Calla Shailer-Williams at Stokewood Leisure Centre
For more information about BH Live please contact:
Elizabeth Symmons, PR & Corporate Communications Executive
E: press.office@bhlive.org.uk
T: (01202) 055562
About BH Live
BH Live is a leading operator of leisure and event venues; a social enterprise that designs and builds engaging experiences to inspire people and enrich lives.
With more than five million visits a year we are changing lives and are at the heart of the UK's growing social economy. In 2018/19 we had 4.5 million leisure centre attendances, hosted more than 500 events and sold over half a million cultural, sporting and entertainment event tickets. We also welcomed 52,500 conference and exhibition delegates.
This generated an estimated £42 million in local economic benefit.
For more visit bhlive.org.uk.
Get social with us: LinkedIn, Twitter @BHLIVE_UK and Facebook @SocialEnterpriseBHLive